This post contains affiliate links, which means that if you purchase something from one of the links, I make a small commission at no extra cost to you. Thanks for supporting Shifting Roots!
Do you dream of a yard full of beautiful cut flowers and filling your Instagram feed with their gorgeous blooms? If you've read the Floret Farm's Cut Flower book or seen their Instagram feed, chances are you've caught the flower bug and are wondering how you could ever make your flower fantasies come true. Just me? Anyway.
I interviewed Saskatoon's Danielle Fulawka, a full-time artist and cut flower gardener (yes, you read that correctly!!) and asked her to spill her secrets on how she was able to start a Floret-style flower farm in her small city backyard on the cheap. She was able to start her business from scratch for $2000 and break even in the first year.
Danielle was so generous with her advice and her gorgeous pictures. If you don't already follow her on Instagram, you need to! She shares pictures of her beautiful flowers and her flower-inspired artwork and is one of my favourite local accounts. P.S. to see her artwork, head over to Little Bird Patisserie in Saskatoon, or her website, daniellefulawka.com.
How to Start a Low Cost Flower Farm
Like so many other women who have picked up a copy of Floret Farm's Cut Flower book, Danielle was inspired to grow her own flowers and start an urban flower farm. At the time, she didn't even own a house, but she had faith that she would have one by the time the flowers needed to be planted.
And if she didn't? The seeds she started could easily be grown in pots and she'd enjoy them anyway. (Some seed varieties need to be started as early as January.)
Thankfully, God provided and she and her husband moved into their Caswell Hill house just in time to get the ground ready for planting.
There was just one little problem–there was no designated garden space. In fact, the entire backyard was covered in rock!!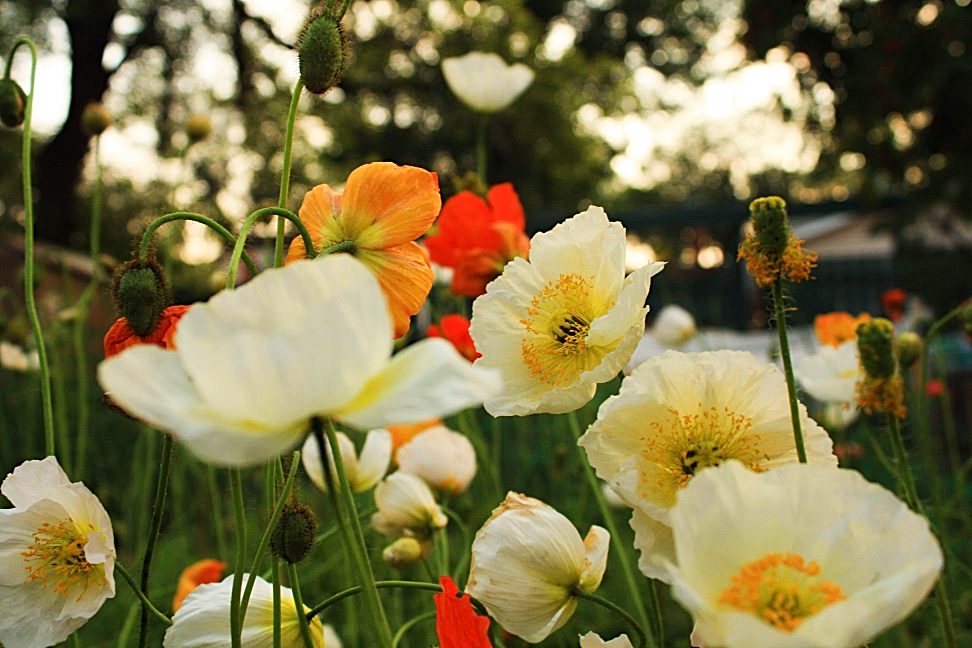 No Garden Space? No Problem
So out went the rocks and an unfortunate elm tree and in came piles of soil, compost, and manure. (Side note: I say this like it's no big deal, but if you've ever hauled rocks or dirt, you know that this was days of back-breaking labour.)
She purchased used grow lights, started all her own seeds, and splurged only on hoop house supplies and a flower fridge. To keep things as maintenance-free as possible, she installed a drip irrigation system and grew all the flowers in holes punched in landscape fabric. She then put her business out into the world, offering pre-sales of flower subscriptions.
Danielle's garden area is only 37 feet by 37 feet. In that space she grew approximately 25 varieties totalling 1200 plants and was able to sell over 100 bouquets. In 2019, she plants to grow 60 varieties of flowers, offer florist services for weddings, and increase the number of floral subscriptions she offers.
Flowers for Weddings, Floral Subscriptions, and Fun
The floral subscriptions include 5 bouquets from May to September, and are $100 each. This year, she plans to donate 3 bouquets for each subscription to those who are sick or in palliative care.
While I didn't have a subscription this year, I bought a few bouquets from her when she had extras, and I can vouch that they are worth the money and more beautiful that what you would buy in a store.
She is also taking bookings for 2019 weddings. If you're interested in either, DM her on Instagram and she'll be happy to help.
The Best Advice for the Beginner Flower Farmer
Finally, I asked Danielle what advice she would give anyone who wanted to start their own backyard flower farm. Her biggest takeaway from this year was–just do the research. You don't need fancy courses or all the best stuff to get started. Buy your seeds in bulk, start your own seeds to save money, and give it a try. You're going to make mistakes and that's okay.
I'd also like to add that Danielle's garden is in zone 3b, so if you think you don't like someplace warm enough to start flower farming, think again!
Not sure you can do it? Watch this video to learn how to create a small space cut flower garden in your backyard.
Shh! Two Flower Farming Secrets
She also shared two little secrets with us.
The first? Flower farmers don't have beautiful yards. You're constantly cutting the best flowers for sale, so the garden never looks beautiful unless you specifically stop cutting a section just so you can take some pictures.
The second? Flowers + time in the fridge =magic. Cut flowers can last twice as long if you put them in your fridge overnight and change the water daily.
Thanks so much Danielle for sharing your beautiful flowers with us!! Be sure to watch for the second post where Danielle shares her favourite flowers to grow, as well as how to compose a stunning bouquet. You can follow her on Facebook, Instagram, or see her art at daniellefulawka.com
Ready to grow your own beautiful cut flower garden, without the hassel?
I've taken all the guesswork out of creating a cut flower garden with my e-book, Cut Flowers Made Simple. It's the perfect way for beginner and intermediate gardeners to start their own cut flower garden with or without seed starting, growing annual flowers.
Click on the picture to find out more or get your copy.