If you're a flower farmer looking to make stunning pumpkin centrepieces, a home baker looking for the perfect pie pumpkin, a parent looking for a large pumpkin variety to carve with your kids, or any pumpkin lover in between, you've come to the right place!
In this blog post, I share my favourite pumpkin varieties for baking, arranging, cooking, decorating, carving, and more. Let's get into it!
This post contains affiliate links, which means that I earn a small commission at no extra cost to you if you purchase anything. You can read more about it in my privacy policy. Thanks for supporting Shifting Roots!
The best pie PUMPKINS
Everyone wonders if fancy heirloom pumpkins are good for anything other than decor–and they definitely are! If the pumpkin flesh is bright orange with thick walls, the pumpkin will be perfect for pies and puree for baking.
My favourite pie pumpkin comes from some random seeds my father-in-law gave me some time ago. I call this variety the "Early's Pie Pumpkin" as I'm fairly certain the seeds were from Early's Farm and Garden Centre in Saskatoon, Saskatchewan. These mystery seeds reseed, they're prolific, and they make the perfect pumpkin pie.
Jarrahdale and Sugar Baby are similar varieties that also make perfect pies!
fastest-growing PUMPKIN VARIETIES
Pumpkins typically need 100 days or more to maturity. In fact, in colder climates like Zone 3, you'll often have to bring your pumpkins indoors before they're totally mature. Not to worry, as they'll continue to ripen beautifully indoors.
Smaller varieties like Jack Be Little or Baby Boo can be ready in as little as 85 days.
sweetest PUMPKIN VARIETIES
Look for varieties that are considered pie pumpkins or sugar pumpkins. Some examples are Sugar Baby, Baby Pam, Baby Bear and Sugar Bush. Apparently, the words Baby and Sugar seem to be good indicators that it will be a sweet-tasting pumpkin.
best PUMPKINS for carving
When choosing a carving pumpkin, look for varieties that are larger with thicker skin and less flesh. You can carve pumpkins that are meant for eating, but it will be more difficult to get the pieces out, as the walls are much thicker. Some of my favourites include Jack O' Lantern, Appalachian, and Gold Fever.
largest PUMPKIN VARIETIES
Dills Atlantic Giants are the standard for growing a large, competition-worthy pumpkin. Nova Scotia farmer and pumpkin breeder Howard Dill spent over 30 years developing this giant pumpkin variety. The heaviest Dills Atlantic Giant weighed in at over 2, 500 pounds and you can purchase seeds for pumpkins ranging between 300 and 1,00 pounds on the Howard Dill website. Some other giant pumpkin options are Big Max, Prizewinner, and Big Moose.
Looking for something large, but not ridiculous? Try Cinderella, Autumn Gold, Connecticut Field, or Howden Biggie.
smallest PUMPKIN VARIETIES
Bigger isn't always better. Smaller varieties are great for decor, for kids to play with (ask me how I know!), and to make centrepieces with if you're a flower farmer. My favourite decorative pumpkins are Baby Boo and Jack Be Little, but Jack-B-Quik, Wee-B-Little, and Casperita are also good choices.
pumpkin varieties by colour & texture
Looking to grow a rainbow of pumpkins? This is the place to start! Pick at least one pumpkin (or squash) from each of these categories to get a variety of colours and textures.
striped
Blaze
Cushaw
Dwarf Tiger Striped
Kakai
Lil' Pump-ke-mon
One Too Many
Sweet Lightning
SPOTTED
Calabaza Squash
Carnival Squash
Colorado Sunrise
Spark
Speckled Hound
warted
Futsu Black
Galeux D' Eysines Squash
Goosebumps
Grizzly Bear
Knucklehead
Marina di Chioggia
Miniwarts
Scheherazade
Warty Goblin
Black
Batwing
Black Kat
Dark Knight
Futsu Black
Midnight
BLUE/green
Blue Doll
Blue Hubbard Squash
Crown Prince
Jarrahdale
Kabocha Squash
Marina di Chioggia
Total Eclipse Squash
ORANGE
Appalachian
Autumn Gold
Baby Bear
Baby Pam
Big Max
Big Moose
Cinnamon Girl
Connecticut Field
Dill's Atlantic Giant
Duchess
Early Giant
Fairytale
Gumdrop
Igor
Jack of Hearts
Musquee de Provence
New England Pie
Racer
Wee-B-Little
Wolf
PINK
Galeux d'Eysines
Porcelain Doll
Winter Luxury
RED
Cinderella/Rouge Vif d'Etampes
Lakota
Red Kuri
TAN
Autumn Crown
Buckskin
Dickinson
Kentucky Field
Rumbo
White Pie
white
Baby Boo
Blanco
Casper
Casperita
Lumina White
Moonshine
Polar Bear
Shiver
Snowball
Valenciana
White Boer
Yellow
Jaune de Paris
Long Island Cheese
Mellow Yellow
Sunlight
FREQUENTLY ASKED QUESTIONS ABOUT PUMPKINS
What are the easiest pumpkins to grow?
You might be disappointed by my answer, but there really is no easiest variety. All pumpkin varieties have their unique challenges. That being said, any standard orange pumpkin is fairly easy to grow.
As long as you give your pumpkin lots of nutrients (meaning compost and manure in the hole where you plant it), you should have success! Barring squash bugs, vine borers, beetles and other pests, of course.
Can you eat the fancy-coloured pumpkins or are they just for show?
The short answer? Yes, you can.
The longer answer? You'd be surprised how many of those fancier decorative varieties are actually really good pie pumpkins. Make sure you read the description on your seed pack, as many of the fancier heirloom varieties are delicious in pies, purees, and more, but not all are meant for eating.
I've grown Jarradale and made fantastic pumpkin puree from it in the past, but so many of the coloured, warted, striped, and spotted pumpkin varieties are good for cooking and baking if you do your research (and some of the "pumpkin" varieties we know and love are actually squashes which are delicious in vegetable bakes, soups, and stews!)!
Where can I Buy Specialty Pumpkin Seeds?
Honestly, the usual suspects that we link to at Shifting Roots are all great places for specialty pumpkin seeds: Johnny's Selected Seeds and Baker Creek Heirloom Seeds in the U.S. and West Coast Seeds, Veseys Seeds, and William Dam Seeds in Canada.
What are your favourite specialty pumpkin varieties? Let me know what I missed!
If you liked this blog post, find me on Facebook, TikTok, and Instagram for more cold-climate vegetable gardening tips, delicious recipes, and cut flower goodness! I also make weekly videos over on my YouTube channel. I hope to see you there!
P.S. If you love the content I create for Shifting Roots, consider joining our community on Patreon. Your support means the world to me and I am grateful for each and every one of you!
---
NEED HELP IN THE GARDEN?
Green thumbs aren't just given out at birth. They're a combination of learning about gardening and trial and error. If you wish you knew more about gardening and had more confidence in your abilities, you need the Growing Roots Gardening Guide. It's an e-book plus 6 bonuses–everything you need to go from complete garden newb to confident in one growing season. Get all the details of what's inside here!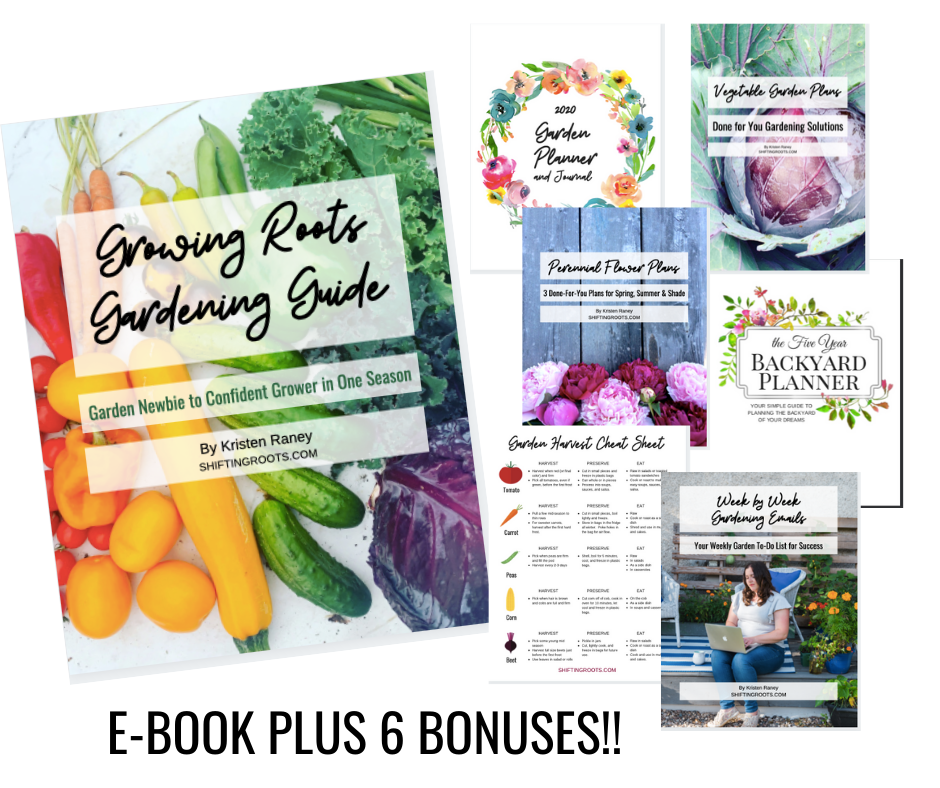 ---
---