You might have heard of beatniks (dough rolled up in a beet leaf) but have you heard of beet leaf rolls? They're a riff off of cabbage rolls, way better tasting, and a great way to use up some of your beet leaves!
By the way, did you know you can eat beet leaves? Now you do. They're delicious in these rolls, used as salad greens, or fried up as part of a stir fry.
Or maybe you haven't heard of any of these things! Read on and you'll be glad you did.
Ukrainian Beet Leaf Cabbage Rolls with Creamy Dill Sauce
I was first introduced to this recipe by a neighbour of ours back when I was a kid on the farm. Rice rolled up in beet leaves with a decadent creamy dill sauce–it was simply to die for!
Beet leaf cabbage rolls are actually a traditional Ukrainian recipe called holubtsi. Having no Ukrainian blood in me that I know of, and no recipe card handed down to me, this recipe is probably not quite traditional. I am literally going off of my memory of what this much-loved dish tasted like and a few alterations I've made along the way to suit my tastes.
NOTE: After consulting one of my friends with Ukrainian heritage, I'm starting to think these beet leaf rolls might be some sort of fusion of two Ukrainian dishes. Since they are a small roll (or finger) I can still call them holubtsi, but she had never heard of this particular way of making them. If you have any background on this dish, I would love to hear about it in the comments!
Bake in the Tastiness
I also need to make a tiny confession–how you see the rolls pictured is not exactly how I would serve them if you would come over to my house for dinner. I styled them this way so that if you–like me–have no Ukrainian heritage and have never seen or heard of these before, it would be obvious from the pictures what they are.
If you came over to my house for dinner, the cream sauce would be spread all over the dish and baked in until boiling along the edges. Unfortunately, it doesn't look as pretty and probably wouldn't encourage you to click on this recipe.
You can eat the dish as shown, but trust me, it's way tastier with the cream baked in.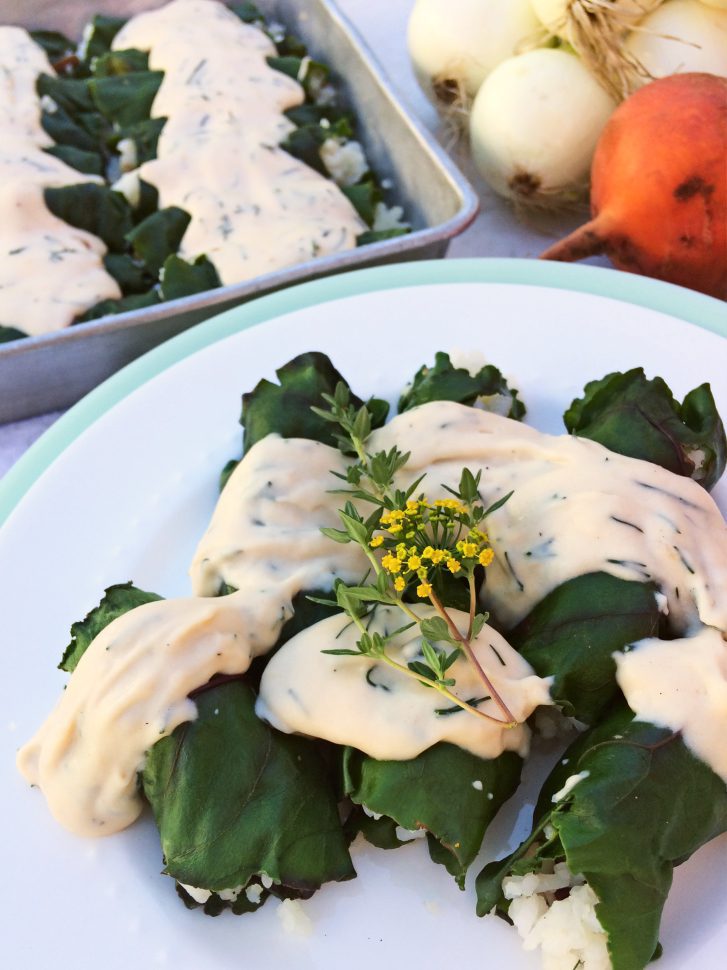 Finally, if you make this dish with the amount of garlic and onion I suggest, you might question my sanity when you smell how powerful it is in your rice cooker. Don't freak out. Yes, the smell is powerful, but it will all balance out in the end–promise!
Beet Leaf Rolls with Creamy Dill Sauce
Total Time:
1 hour
30 minutes
A cross between beetniks and cabbage rolls.
Ingredients
2 cups rice
4 1/2 cups water
1 medium onion
1 bulb garlic
large beet leaves
2 cups whipping cream
1/4 cup butter
2 tbsp flour
1/2 cup fresh chopped dill
salt and pepper to taste
Instructions
1. Chop up onion and garlic.

2. Add rice, water, onion, and garlic to rice cooker and cook until done.

3. Boil beet leaves in a small amount of water until just wilted. Drain water and let cool. Make sure you cook more beet leaves than you think you will need, as some of them will break.

4. Once rice mixture and leaves are cool, place one tablespoon of the rice mixture on a beet leaf and roll.

5. Fill up a greased 9 x 13 casserole dish with the rolls.

6. In a sauce pan, melt butter, add flour, and cook until flower and butter is golden brown.

7. Add cream and stir until sauce is slightly thick. Do not worry if your sauce is a little runny. It will thicken up in the oven.

8.Stir in chopped dill and salt and pepper to taste.

9. Pour sauce over the beet leaf rolls.

10. Cook in a 350 oven for 45 minutes, or until the cream sauce is boiling at the edges.

11. Let cool for 5 minutes and serve
This recipe is a little time-consuming, but frugal and delicious. Let me know if you make it!
If you enjoyed this recipe, find me on Facebook, TikTok, and Instagram for more delicious recipes, small space gardening and flower farming tips, and more! I also make weekly videos over on my YouTube channel where I share lots of tips and tricks for cold-climate gardeners. I hope to see you there!
P.S. If you love the content I create for Shifting Roots, consider joining our community on Patreon. Your support means the world to me and I am grateful for each and every one of you!
---
WANT SOME SIMPLE HARDY FRUIT RECIPES?
If you're looking to make delicious recipes with your homegrown hardy fruits, look no further. Check out my e-book Prairie Fruits Cookbook for over 25 mouth-watering dishes!
---
---