I love growing an annual cut flower garden from seed, but the costs can quickly add up. Every year I spend over $200 on flower seeds–and that's after I try and pare down my choices! Over the last couple of years, I've been saving seeds from more and more of the flowers that I grow, and it's really starting to make a difference in my budget.
Seed-saving cut flowers doesn't have to be complicated. In this post, I'm going to share three super easy annual flowers that you can save from seed. Can you imagine buying cut flower seeds once, and never having to buy them again? Here are my picks!
P.S. For those of you who prefer to watch videos, you can watch this YouTube video instead:
Cut Flower Seed Saving Tips
Some of these tips are going to seem painfully obvious to more experienced gardeners, but I include these tips only because I have actually made these mistakes when I should have known better.
1. Save the best flowers
Is there a flower that's really large, has a unique colour, or some other quality that you like? Earmark that flower and make sure you save that one!
2. The bees might have other plans
In 2019, I saved a lot of calendula seeds, expecting them to look a certain way. Little did I know that the bees had cross-pollinated my four different varieties and the calendula that came up looked different than I expected them to. Thankfully I loved the look of them, so it wasn't a big deal. Just know that unless you put a mesh bag around them to avoid cross-pollination, you might get some surprises.
3. Don't leave seeds outside to dry
Yes, you can leave some seeds outside to dry and they'll be just fine. However, some seeds like sunflowers make amazing snacks for birds and mice–ruining your future flower garden. So don't let your seeds get eaten and take them indoors.
4. Collect the seed pods when they are as close to releasing their seeds as possible
Seed heads can dry and ripen indoors, but I've found that the seeds I've been able to collect outdoors that are as close to ready as possible usually have better germination
5. Collect seeds when they are dry
Even if they seem dry, they will need to dry for at least a month. If I need to dry seeds indoors, I will let them dry for at least two months. Outdoors, I find that my greenhouse is the perfect hot and dry location to get rid of any moisture.
6. Take notes & label seeds immediately
You will not remember which pile of seed heads is a certain colour surprisingly fast.
THE 5 EASIEST CUT FLOWERS TO SAVE FROM SEED
1. Calendula
Calendula is extremely easy to seed save. Just let the flower dry up outside and then you'll see these little curly dried-up things start to emerge. When they're a brown colour you can take them off and save them, or you can just let them fall to the ground and they will reseed themselves next year.
2. Feverfew
Wait until the seed head dries out completely, take off however many flowers you want, rip the flower apart, and you'll see the seeds inside. Alternatively, you can just leave them out over the winter and when you clean them up in the spring enough seeds will fall that they will reseed themselves.
3. Marigolds
I love saving marigold seeds–they're so easy to collect and I almost always have good germination. Once the marigold is finished blooming and ready for deadheading, cut it off and leave it in a hot and sunny location. Once the head is dry and brittle, tear it apart. You'll be left with lots of marigold seeds like the ones below.
4. Snapdragons
To save snapdragons, wait until the flower has almost finished blooming and there are little balls all the way up the stem. We want a few blooms left just so we know what colour we're collecting! Cut off the stem, keeping as many of those little balls as possible–they contain our future seeds!
Let the snapdragons dry until they are golden brown. I leave mine indoors on a paper plate for around two months before I try to collect the seeds. The plant should be very brittle and dry at this point. Then, you can lightly shake the seeds out of the little pods.
Snapdragon seeds are very small, so make sure you shake them on the paper plate or some other spot where they are easy to collect. Store the seeds in an envelope and label for future use.
5. Zinnias
Zinnias are one of my favourite flowers in the cut flower garden, and they're also so easy to save from seed. Let your favourite zinnia grow so that it looks either like a big cone or a stack of pancakes (it will depend on the variety). Cut it off (or leave it on if it's the end of the season) and leave it to dry for at least two months.
Once it's completely dry, tear the cone (or pancake) apart and you'll see little seeds that look kind of like daggers or trowels. Those are your new zinnia seeds!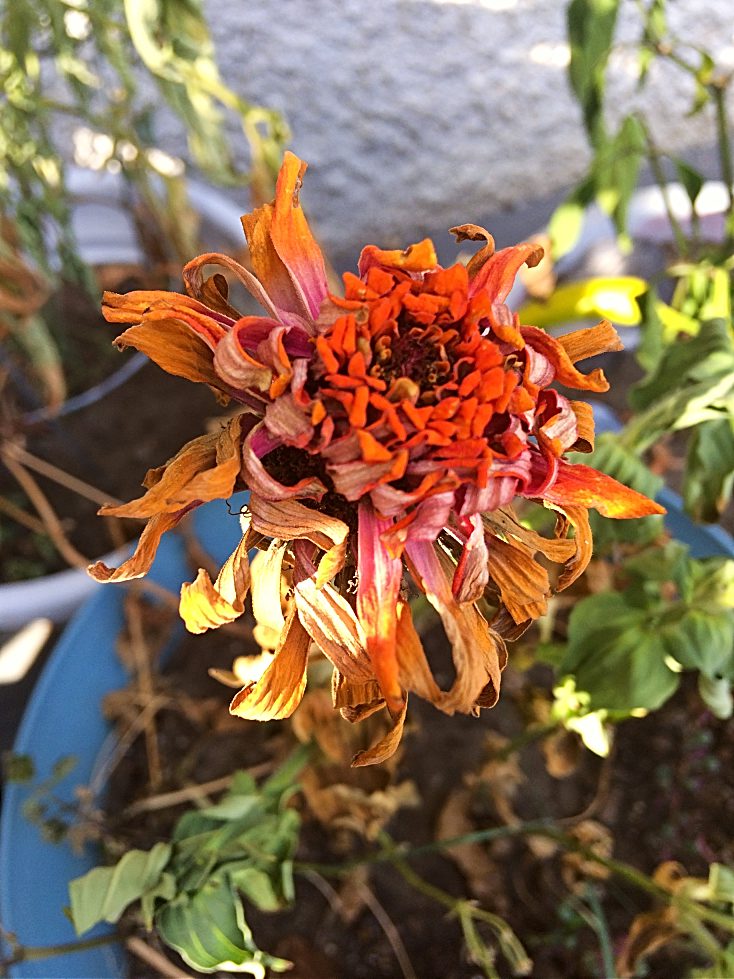 Are there any other cut flowers that you find easy to collect seeds from?
If you liked this blog post, follow me on Facebook, TikTok, and Instagram for more cold-climate gardening tips, delicious recipes, and cut flower goodness! I also make weekly videos over on my YouTube channel. I hope to see you there!
P.S. If you love the content I create for Shifting Roots, consider joining our community on Patreon. Your support means the world to me and I am grateful for each and every one of you!
---
Learn to save even more cut flower seeds!
There are so many flowers you can save from seed that will easily save you more than $200 on your cut flower gardening bill. If you're tired of spending so much money on your flower garden every spring, you need Savvy Seed Saving. This ebook teaches you how to save 18 different annual cut flower seeds, putting money back in your pocket!
---
---