Don't let short-season gardening prevent you from having the orchard of your dreams (or at least, an orchard that works for you, wherever you're at!). I know one of your most pressing questions is probably "what can I grow in a cold-hardy orchard?" So, let's get into it!
This post contains affiliate links, which means that if you purchase something, I earn a small commission at no extra cost to you. You can read more about it in my privacy policy. Thanks for supporting Shifting Roots!
WHAT FRUIT TREES CAN BE GROWN IN ZONE 3?
The short answer is more than you think. Many hardy fruits can be grown in Zone 3, including apples, various kinds of berries, plums, and cherries. Sour cherries are one of my absolute favourite prairie-hardy fruits. If you want more details about the hardy fruits you can grow in a cold climate, check out my list of 28 hardy fruits you can grow in Zone 2 and 3.
You can also grow several hardy fruits from seed as a short-season gardener. A disclaimer that melons are harder to grow in a cold climate, so you'll have better luck if you have access to a greenhouse or high tunnel.
WHERE CAN YOU BUY COLD-HARDY FRUIT TREES?
Your local garden centre will be the best resource when shopping for cold-hardy fruit trees. Big box stores don't consistently sell the correct varieties and do not always have workers as willing to help buyers with specific questions and concerns. Check out my blog post, 35+ Canadian Seed Companies & Nurseries to Order the Garden or Landscape of Your Dreams, for the best companies to buy fruit trees hardy to Zone 3.
THE ONE THING YOU MUST KNOW BEFORE YOU PURCHASE A SINGLE FRUIT TREE
There is an important distinction between self-fertile trees and cross-pollinating trees. For cross-pollinating trees, sometimes they can be two different fruit trees altogether and sometimes it has to be a different variety of the same type. For example, Haskap bushes require a compatible variety to produce fruit.
If you're unsure if you are planting self-fertile or cross-pollinating trees, I would highly recommend Growing Fruit in Northern Gardens. If you're serious about planting an orchard, it's worth every penny to get this book.
LET'S GET PLANNING!
Now that we've talked through some of the introductory details, let's get planning. If you want to start an orchard you'll need patience, nutrient-rich soil, and a well-developed plan. If you're starting completely from scratch you'll want to pick your favourite fruit trees, figure out which ones will be best for your location, and get yourself the means to plant them!
WHAT FRUITS DO YOU ENJOY THE MOST?
Besides thinking of your favourite fruits to eat fresh, remember that some varieties are better for different things. Consider which fruits you enjoy most for fresh eating, storage, juicing, pies, canning, and refer to the variety description if you're unsure.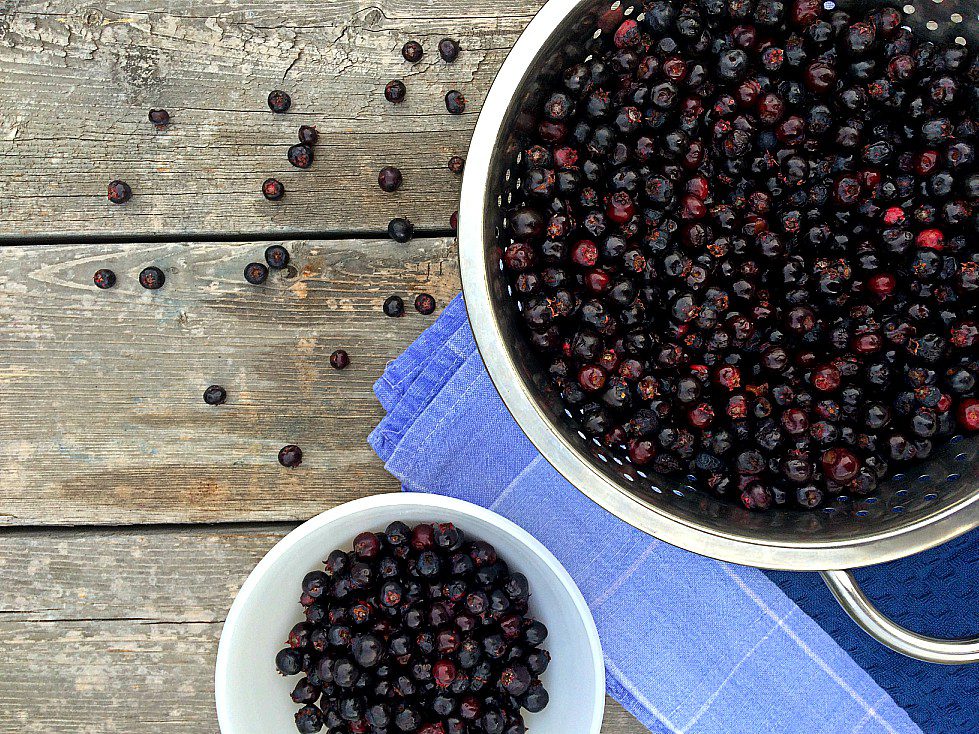 CREATING AN ORCHARD TAKES TIME
Buy the largest trees you can afford, and prioritize buying those trees in the first years of owning your property. You don't have to buy the whole orchard at once, but try to do it in the first three years if at all possible.
PREPARE THE GROUND FOR YOUR ORCHARD
Before you get too ambitious with your orchard planning, you'll want to test the condition of your soil to ensure it has the correct balance of minerals, organic matter, pore space, and living organisms to support your plans. The quality of an orchard is only as high as the quality of the land underneath it.
Check out my YouTube video with my friend and soil scientist, Ashley, who walked me through an at-home soil test and gave me recommendations on fixing problematic soil:
PLANT IN SPRING OR FALL AND WATER LOTS
Wondering which season to plant your orchard? Spring offers the best selection of trees and the longest time to establish roots. Fall is good too, and you can get good deals from nurseries looking to move products fast. Summer is too hot and trees won't do well.
Whenever you decide to plant, ensure that you water your orchard consistently in the first year, and give it a very good last watering in the fall.
SPACE OUT YOUR TREES
Spacing is extremely important to avoid overcrowding, which means less fruit production. Aim for 18 to 24 feet between large trees like apple, pear, or apricot, unless you're committed to keeping them pruned small. Bushes like cherries, haskaps, and Saskatoons will likely be in the 6-foot range, but always read the tags on your trees for the best guidelines.
Keep trees away from your house. You don't want the roots to create future plumbing problems and you want to ensure full sun for your plants.
PROTECT YOUR INVESTMENT
Consider some sort of temporary fencing around young trees so deer don't eat them. We use cattle panels and make a cage around our trees so that the deer can't reach in and nibble our young trees. If deer do end up eating the shoots of your trees, it can really delay the growth–meaning you'll have to wait longer for apples (or whatever fruit tree you're planting).
THE PLANS FOR OUR ORCHARD
Here at the acreage, we are lucky that the property already comes with some Saskatoon berries, chokecherries, raspberries, and a sour cherry tree. We've added a Romeo, Juliet, and Cupid sour cherry tree and will likely cut down the established tree. Unfortunately, it's too close to other trees, so we don't get much production from it.
We've also bought hardy grapevines, in the hopes that we can someday experiment with making wine.
In the dedicated orchard area, we've planted 4 apple trees, two plum trees, and one apricot tree. We need another apricot, as they are not self-pollinating, but the deal at the nursery was too good to pass up.
This year, we'll be on the lookout for pear trees, a few blueberries, and possibly more Saskatoon berries. Even though we have some trees, they don't produce enough berries for what I typically use in one year.
The raspberry patch was very overgrown, so we cut down and thinned out the patch. We are hoping that we'll have a much better crop this year now that the berries have a bit more breathing room.
WANT SOME SIMPLE PRAIRIE FRUIT RECIPES?
If you're looking to make some delicious recipes with your homegrown hardy fruits, look no further. Check out my Ebook, Hardy Fruits Cookbook for some mouth-watering dishes!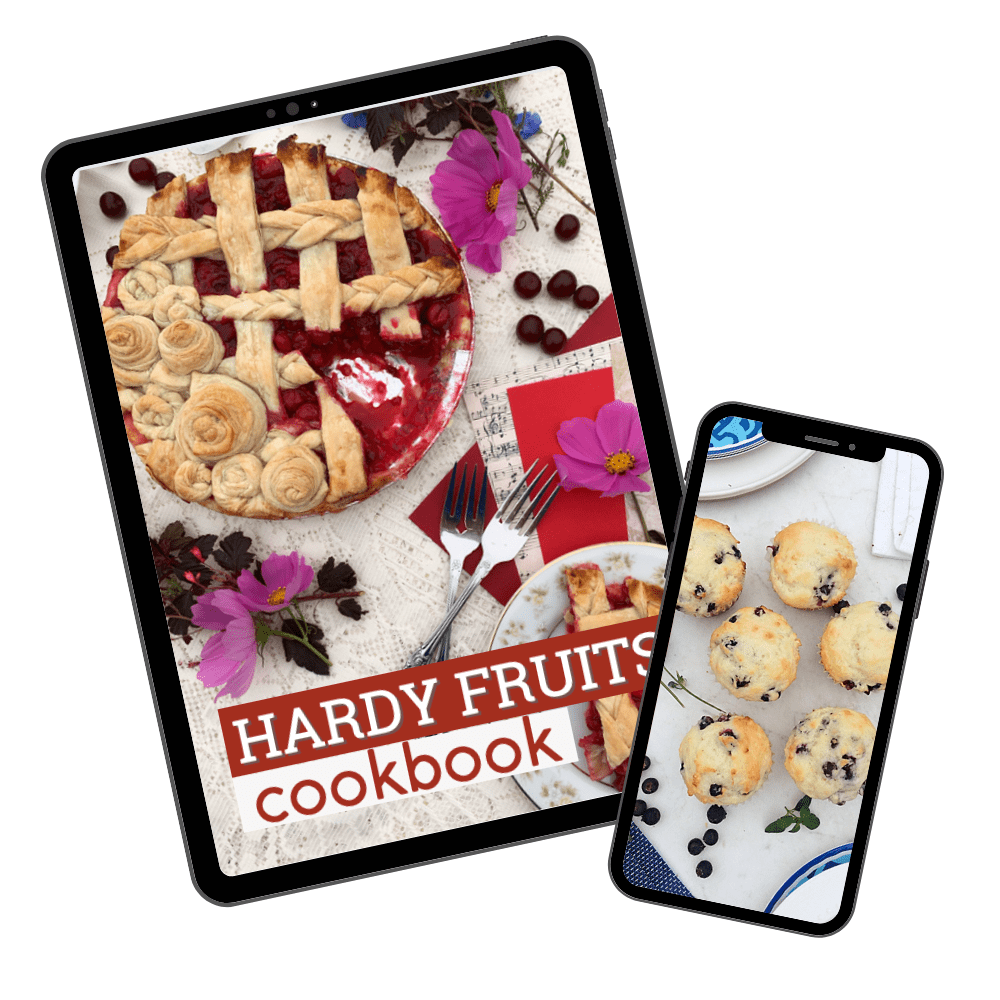 ---