Dreaming of owning a flower farm is so much fun. You get to grow cut flowers and be surrounded by beauty all summer long. But who are you going to sell all of those cut flowers from your garden to? Where can you sell them, and are there more options than bouquet subscriptions?
While I've been growing cut flowers for a very long time, I'm only in the third year of my flower farm business and, by having tried at least half of these ideas that I'm giving you and increasing my sales each year, I can confidently say that this advice can work for you!
Even though I have a larger space now when I first started my business I was confined to a small city lot. And even when I had a small city plot I could still turn a profit. I might not have grown enough flowers to support my family, but I grew enough to sell a couple of bouquets each week and make some extra money. What would you do with an extra $100 a week?
In this post, I'm giving you 15 ideas for selling your cut flowers, which can work for large operations or small. Pick 1-3 that make the most sense for you and your situation. Don't try to do them all at the same time!
If you prefer your content in video format, watch the videos below. And make sure to subscribe to my channel so you don't miss my Backyard Business series on how I make money from my backyard flower farm!
P.S. If you are brand new to growing cut flowers, start with this post and come back!
15 Ways to Make Money as a Flower Farmer
1. Flash Sale on Social Media
The flash sale is one of the easiest ways to get started and allows you the most flexibility as a new grower. Every week (or whatever interval makes sense for you), post pictures of what you have for sale, including quantities and prices. The first person to e-transfer you money claims the bouquet, and you arrange for pickup or delivery.
Likely you'll start with your family and friends on your personal page, but it's better to separate everything and create a business page/account as soon as possible. If your following is large and your bouquets end up being popular, it can get hectic. This leads to the next option…
2. Creating a Store on your Website
It's easier to sell bouquets, set limits on how much is available and stay organized with an online store. (Check out mine here!) However, there is a learning curve to owning and operating a website. At a minimum, you'll want to make sure you pay extra for your own domain name and have an HTTPS address, not an HTTP (the s in HTTPS stands for secure!).
Once you have your website set up, you can use it as the hub of your online presence, and use it to collect email addresses from your customers.
3. Subscription (CSA)
Flower subscriptions are when a grower collects money up front for bouquets that are given to customers later in the year when the flowers are in bloom. This way you collect money upfront to buy seeds, trays, equipment, etc. when funds are low in the winter.
Some growers have weekly subscriptions, monthly, half-season, or anything in-between. Whatever you decide, make sure the rules around the subscription are clear. Where do they pick up the arrangement? Can the customer skip a week? What happens if you have no flowers on the scheduled week?
A flower subscription is one of the most popular ways to sell cut flowers, but it's one of the trickiest for a new grower. When you first grow cut flowers, it's tricky to know the timing of every flower–and the weather can wreak havoc with your plans.
Until you learn to spread out your flowers during the growing season, it's wise to keep your CSA offerings flexible on your end or wait a year or two before you offer one.
4. Farmer's Market
A local farmers market is a great way to be visible in the community and meet people in person that you might not be able to reach online. There is often an application process and a table fee to attend, and you may need to commit to a booth for a minimum amount of weeks.
5. Bouquet Bar
If you have a location where you're comfortable with customers visiting and like flexibility, a bouquet bar might be the best option for you. In this setup, all the flowers are divided by type and you price everything out per stem. Customers pick exactly what they want and pay only for those stems.
6. Weddings
Weddings are great if you enjoy making bouquets and feel confident in your floral design skills. Make sure you keep tabs on trending colours and take time to educate your brides about working with seasonal flowers, and how they need to be flexible with a local grower. Learn more about what I offer for weddings here!
7. By the Bucket
If you don't feel confident arranging bouquets, you can sell your flowers by the bucket to customers. Depending on your setup, you can make it U-Pick, or ask them for any colour preferences and pick a bucket for them.
8. Farmstand
Live in a high-traffic location? A farmstand at the edge of your property might be the solution for you! Make sure it's in a shaded area so the flowers don't wilt.
If you don't live in a high-traffic area, you need to be ready to advertise harder! You can use social media to have a partly virtual pop-up stand and give people a heads up that they should come to your farmstand on certain days to get their flowers!
9. Selling at a Brick and Mortar Store
Some local stores like to partner with flower farmers to offer local blooms for their customers. Generally, the store will sell for a 10-25% markup on your price. Some owners might also let you use their store as a drop-off location for your flower subscription.
10. Selling Wholesale to Florists
Selling wholesale to florists is ideal for someone who has a larger space to work with and doesn't want to deal with the general public on a regular basis. Get to know your florists and what flowers their customers want, so you can grow what they need.
11. Bouquet Making Workshops & Tours
Sell both the flowers and the experience. Customers come to your property, take a short tour to see all the flowers, and then create their own bouquets. You can pre-cut the flowers for them, or let them snip whatever they like.
P.S. You're not bound to only the summer season! You can have workshops on pumpkin arrangements in the fall and wreath-making in the winter.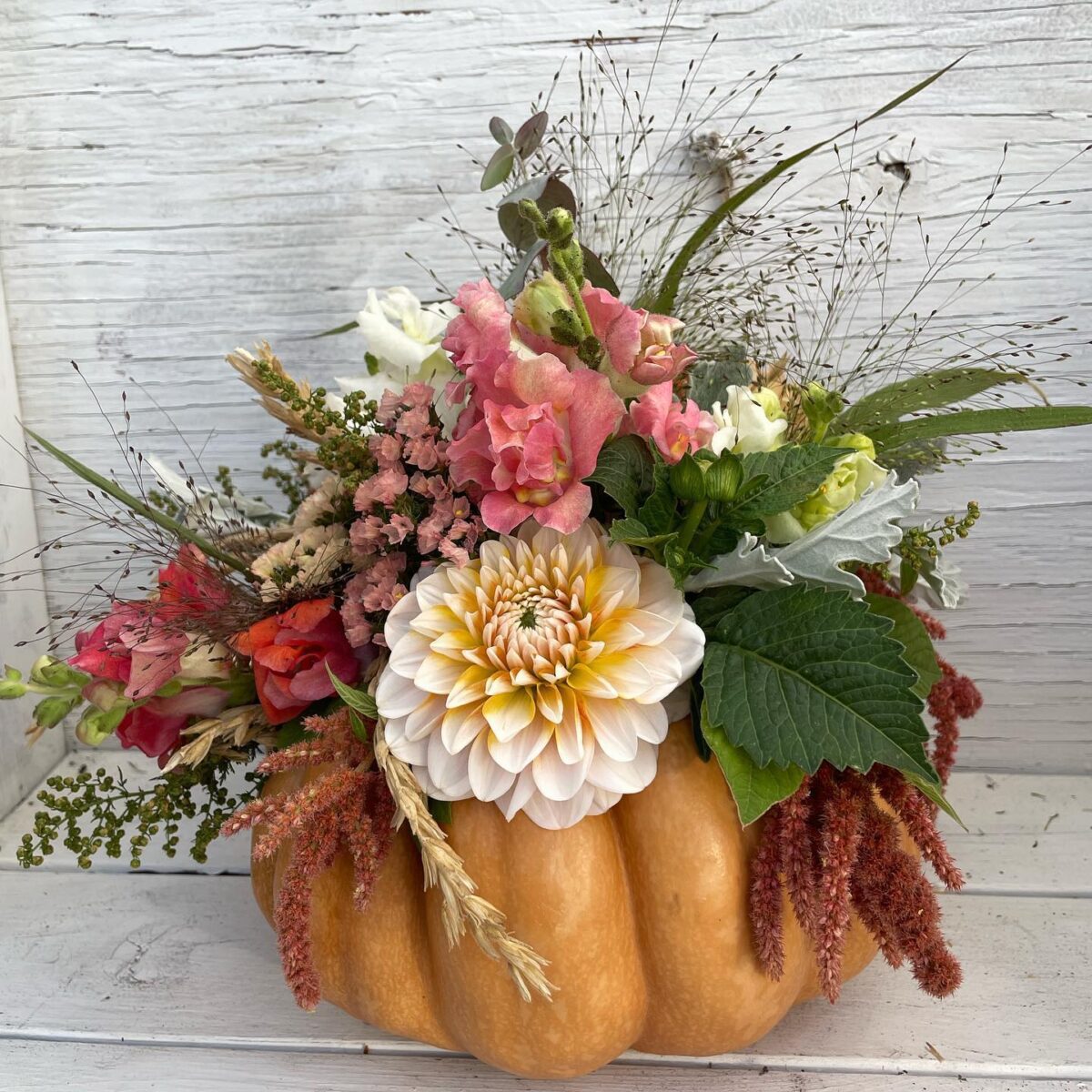 12. Fall & Winter Wreaths
Extend your season by selling fall wreaths with dried flowers and fresh evergreen wreaths and centrepieces. You may have to purchase the greens wholesale, but it can be worth it to extend the amount of time your business can earn money.
13. Saving & Selling Seeds
Save your cut flower seeds and sell them to home gardeners. If you go with this option, you'll have to decide if you want to grow open-pollinated or not, and see if there are any laws or licenses in your area around saving and selling seeds.
Word to the wise–cleaning up the seeds for sale (removing all the little dried bits of flowers to get to the seeds) might be more work than you bargained for if you're doing it all by hand.
14. Reselling Bulbs & Tubers
Want to order a bunch of bulbs or tubers in bulk but don't actually have room for all of them in your space? You can always resell them to home gardeners and make a profit. Double-check that you are allowed to resell from your supplier, and give your customers clear expectations on when and how these items will be delivered.
15. Seedling Sale
Finally, you can sell off any extra seedlings you grow, or even plan to sell your specialty seedlings in a larger sale. Again, check and see if there are any laws to follow or licences that you need to get in your area.
Extra Advice for your First Year of Flower Farming
Don't Try and Do it All
Trying to do all 15 of these suggestions in one year (especially your first) is the fastest way to burn out and hate your garden. Realistically, you would not have enough flowers in a backyard garden to even consider it.
Pick 1-3 that make sense for your time, talents, and comfort level. It is much better to offer less and have lots of demand, than offer lots and not sell as much.
Know Your Ideal Customer
Your business isn't a business until you make your first sale. Think about the type of person who would buy your flowers and what their preferred way to find you is. The person who buys a small bouquet from you every week or two doesn't have the same needs as a local florist that you supply flowers for.
Start building your customer base now by starting up a social media account to share about your flower farming journey. Then once you start selling, collect emails so you can let your existing customers know when you have specials, new flowers for sale, or any events.
Take Notes!
Take notes on everything–planting, successions, blooming, who buys, popular colours, flowers, sizes, and price points. This is your data to keep improving your business.
No one will keep your data for you, and no two flower farming businesses are exactly the same.
It's important to take notes about what colours and types of flowers your customers are attracted to and to have some sort of idea of the profit you expect to turn on your flowers (esp. the flowers you need to buy tubers, corms, and bulbs for like dahlias, ranunculus, and tulips). Flowers like these are very expensive and you need to make sure you make enough profit to make the cost worth it!
Need a garden planner? Get the one I designed especially for flower farmers here!
If you liked this blog post, find me on Facebook, TikTok, and Instagram for more cold-climate vegetable gardening tips, delicious recipes, and cut flower goodness! I also make weekly videos over on my YouTube channel. I hope to see you there!
P.S. If you love the content I create for Shifting Roots, consider joining our community on Patreon. Your support means the world to me and I am grateful for each and every one of you!
---
Want to take your cut flower garden to the next level?
If you need help figuring out what to grow, how to grow it, and more, the Ultimate Cut Flower Bundle has your back. It's made up of four cut flower ebooks that help you grow the flowers, make bouquets that sell, save seeds to save money, and extend your growing season. Plus, you get the Flower Farmer Garden Planner to put all your plans in one place. Since it's a download, you can print it out year after year without having to buy anything else.
---
---