Do you have a favourite smell? One that brings back all your favourite memories? Of crisp autumn days or happy times in the kitchen?
If I could pick one smell, it would be crab apples.
Their pretty red pink might also win for best colour too, but I digress.
One of my favourite ways to use up crab apples is to make this delicious slow cooker spiced crab apple butter. For more about what you need, how to make it, and what to serve it with, read on! And, if you just want the recipe without all the rest, you can scroll to the bottom. Let's get cooking!
Lessons in Crab Apples
I vividly remember picking crab apples growing up on the family farm. I would pick all the apples as high as I could reach while my mom or grandma got the taller ones with the ladder. My grandma's voice still rings in my head, gently lecturing me to not waste a single apple.
Any apples that fell while picking could still be collected for juice.
At the time I thought it was silly. There were so. many. apples. Surely one or two going to waste wouldn't be a big deal?
While I haven't heard of anyone dying from lack of crab apples, the lesson still sticks in my mind. Now that I'm older, I confess that I take a certain amount of pride in being able to make my own crab apple pies, juice, and sauces.
Use Early Autumn Apples to make Delicious Crab Apple Butter
Every year I like to try something new, and just a few short years ago this crab apple butter was calling my name.
Despite having the word butter in its title, there is actually no butter in apple butter. Think of it as a thick jam, or a jazzed-up version of apple sauce.
The ingredients are simple: crap apples, lemon juice, maple syrup, brown sugar, cinnamon, and allspice. Cook, blend, cook again, and serve. Don't worry, I'll go into slightly more detail below and provide the recipe in an easy-to-read format at the end.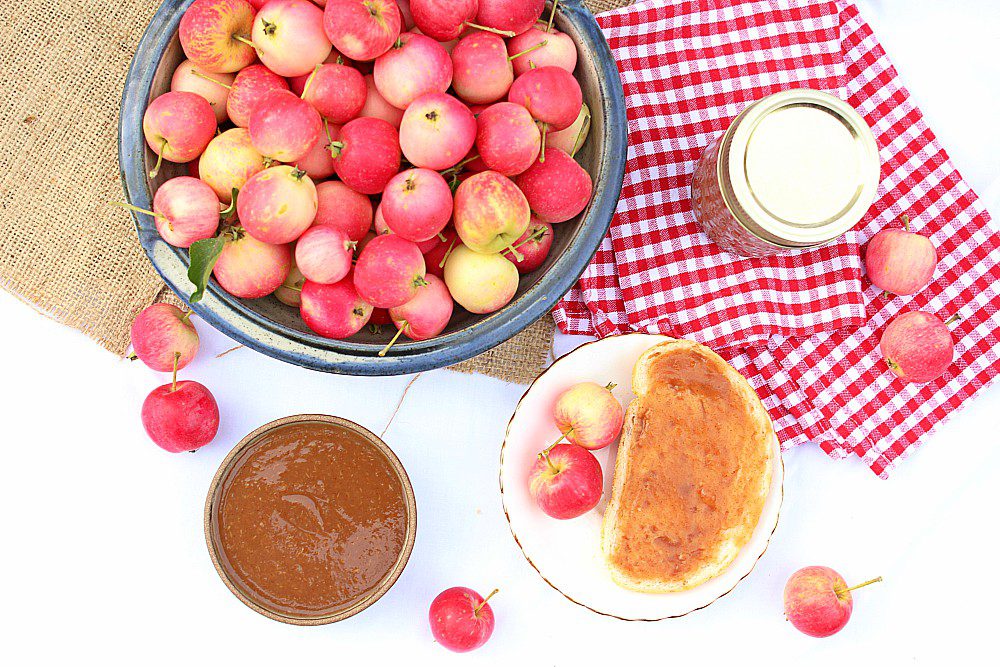 Use it up!
I can hear you already, "That sounds great, Kristen, but what will I actually DO with this marvellous crab apple butter?"
Eat it like you would apple sauce, serve it over pancakes, serve it IN pancakes, or add it to your plain yogurt. You can even serve it on top of crackers and cheddar cheese or use it as a condiment for sausage and egg sandwiches or on a mouthwatering cheeseburger. Whatever you do, I know that you'll be coming back for more.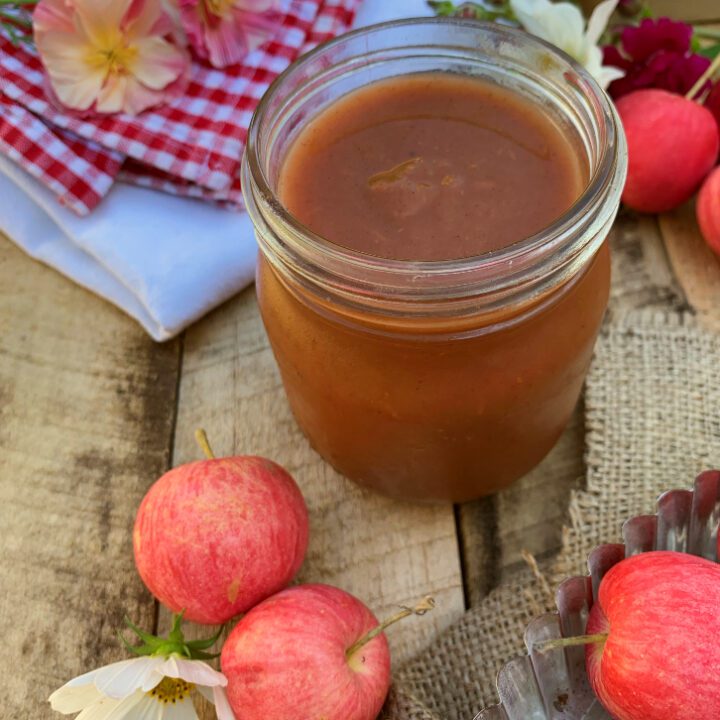 Slow Cooker Spiced Crab Apple Butter
A delicious apple sauce to use up crab apples.
Ingredients
5 cups apple sauce
1 cup apple juice
1/2 cup maple syrup
1/2 cup brown sugar
1/4 cup lemon juice
1 tbsp cinnamon
1 tsp allspice
Instructions
1.Clean and cut your crab apples, removing all stems, cores, and blossom ends.
2.Fill a large pot approximately 1/2 full of crab apples. Add four cups of water and boil. You may need to add more water as your apples cook so they don't burn.
3.When the apples are cooked through and mushy, remove from heat and put them in a blender. Blend on medium low for 30 seconds, or until smooth.
4.Measure out five cups of crab apple sauce and return to the pot. Add apple juice. I use the crab apple juice I make, but apple juice from the store is fine too. Add maple syrup, brown sugar, lemon juice, cinnamon, and allspice. Feel free to adjust the spices to suit your tastes.
5.Heat and cook until boiling. Set heat to medium low and simmer for approximately 15 minutes. Transfer to sterilized jars and process in boiling water for 10 minutes, or let cool and store in freezer-safe containers. If canning, it is recommended to follow the procedure and guidelines as outlined here.
If you enjoyed this blog post, find me on Facebook, TikTok, and Instagram for delicious recipes, small space gardening and flower farming tips, and more! I also make weekly videos over on my YouTube channel where I share lots of tips and tricks for cold-climate gardeners. I hope to see you there!
P.S. If you love the content I create for Shifting Roots, consider joining our community on Patreon. Your support means the world to me and I am grateful for each and every one of you!
---
WANT SOME MORE SIMPLE HARDY FRUIT RECIPES?
If you're looking to make delicious recipes with your homegrown hardy fruits, look no further. Check out my e-book Hardy Fruits Cookbook for over 25 mouth-watering dishes!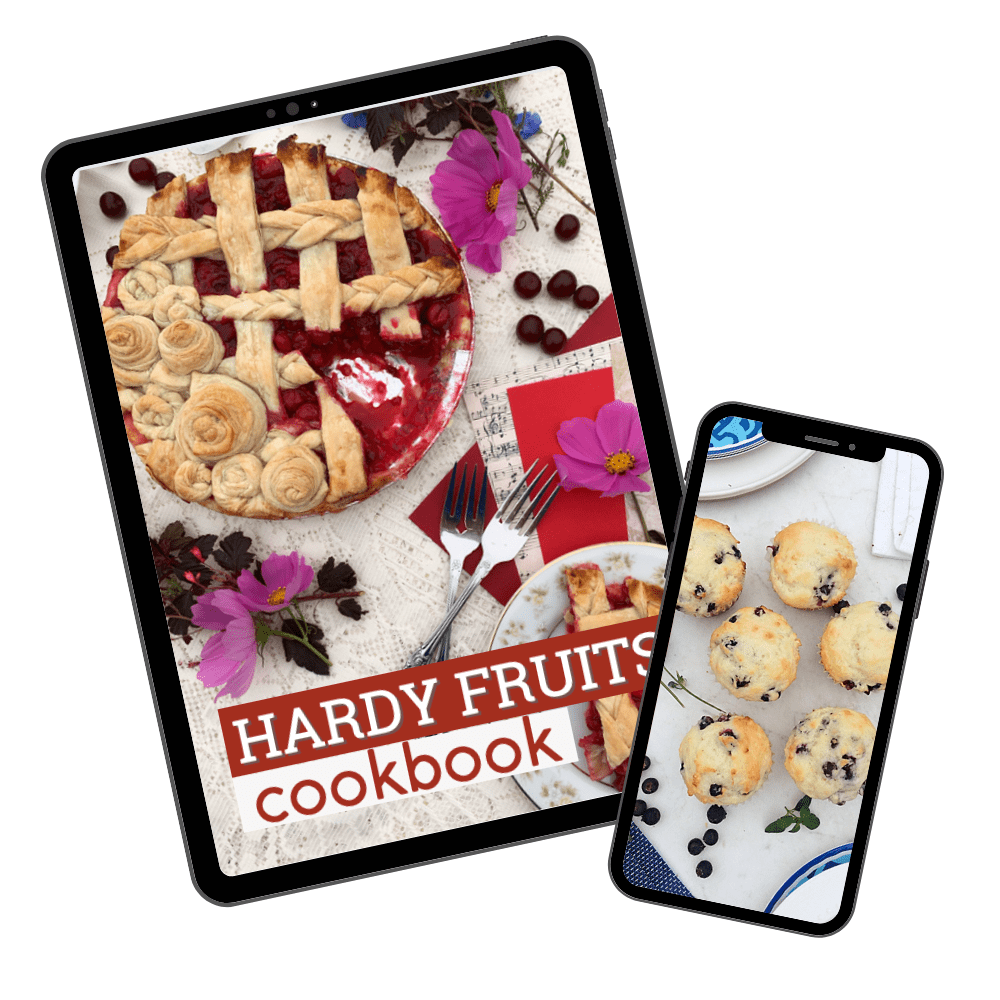 ---
---