Starting seeds can be fun but can also cause stress if you're trying to figure out the perfect DIY seed-growing setup to start flowers, vegetables, and herbs indoors. In this post, I'll share my complete setup for seed starting successful seedlings.
If you want a deeper dive into seed-starting confidently, check out my ebook Seed Starting Success with videos to help you avoid common newbie seed-starting mistakes! In the meantime, if you've been asking yourself how do I set up seed starting? read on!
This post contains affiliate links, meaning that if you purchase something by clicking one of these links, I earn a small commission at no extra cost to you. You can read more about it here in my Privacy Policy.
Do you prefer videos over blog posts? Watch the video below to see my seed starting setup:
THE SUPPLIES YOU NEED FOR YOUR INDOOR SEED-STARTING SETUP
1. Shelving
All good seed-starting setups start with shelving. For a long time, Costco has been my go-to for seed starting shelves. I buy the steel wire shelving units for around $190 each. Each unit has six shelves that fit four standard seed starting trays per shelf, so you get a lot of space for your money! You can also find comparable shelving units on Amazon if you don't have a Costco membership.
2. Trays
I start my seedlings in 128-cell trays. You'll know it's time to bump up your seedlings when you can see roots at the bottom of most of the cells. After bumping them to 72-cell or 50-cell trays, you'll know they need to be transplanted again when their root growth seems to be stalled out even after fertilizing. Along with trays, you'll also want to buy some clear lids for germination.
Soil blocking gets lots of airflow to the roots and is a great way to seed start. If I don't start with 128-cell seedling trays, I'll start with 3/4-inch soil blockers and then switch to trays when my seedlings are ready to be bumped.
Last year I experimented with a variety of soil recipes and tried potting soil, seed starting mix, and a combination of peat moss/coconut coir, perlite, all-purpose fertilizer, topsoil, and organic compost.
Check out this video to learn more about which mix works best under different circumstances:
4. Soil
This might be an unpopular choice, but I usually use potting soil. If you're doing things on a larger scale, I'd suggest buying the bales of potting soil. Usually, they are not on the shelves, so you have to specifically ask for them. Unfortunately, you will not find them at a big box store; you must go to a dedicated garden centre.
If you're using grow lights, you'll need a reasonably warm space that you'll remember to go to daily, is out of the way of kids and pets, and has enough outlets to safely power your equipment. Keep in mind that not overwatering or underwatering and keeping your seedlings the proper distance away from the grow light can be even more critical than the quality of the light itself.
My favourite cheap and easy-to-use grow lights are these Barrina grow lights from Amazon.
6. Timers
Make your life easier! Seedlings need at least 12 hours of light a day, but 16 is ideal. If you don't have a timer, it's easiest to turn your lights on when you wake up and turn them off when you go to bed.
7. Pest prevention
The best pest prevention for your DIY seed starting setup is yellow sticky paper. This can be found at Westcoast Seeds, Amazon, or your local gardening center.
One of the most common pests is those little flys that sometimes are present in your potting soil (a.k.a. fungus gnats). While newly purchased potting soil usually does not have them, it sometimes happens. You will almost be guaranteed to get them if you use potting soil that's been open and outdoors all summer, so it's best to be prepared with some yellow sticky paper.
8. Watering tools
The best watering tools for your indoor seed-starting setup are either a misting bottle (the battery-operated ones are a lifesaver if you have a lot of seedlings) and/or a watering can (an empty 2-litre pop bottle will do as well!).
How often should you water your seedlings?
Check the water levels daily, but only water as needed when the soil becomes dry. Don't wait until it's bone dry.
My two favourite fertilizers for cut flower gardening are all-purpose 4-4-4 and power bloom 2-8-4. There are many benefits to using fish fertilizers, as well, but I would recommend using this in the garden and not indoors because it smells.
When should you start fertilizing? And how often should you do so?
Start fertilizing once the seedlings have two sets of true leaves, and continue to fertilize once every week or two. More is not more! You'll burn your plants if you overuse synthetic fertilizers. Use synthetic if your seeds are really stalled out and not growing. 10-52-10 is the golden ratio for seed-starting fertilizers, so try to find something as close to that NPK ratio as you can.
Can you just use all-purpose fertilizer instead of seed-starting fertilizer?
Yes, but seed-starting fertilizer is better.
10. Seeds
Lately, I've been getting the bulk of my seed from West Coast Seeds, William Dam, Stokes, and Johnny's Selected Seeds, but it changes yearly, and I always buy from 2 or 3 smaller seed companies each year as well. If you need to organize your seeds, grab my printable seed organizer labels!
11. Garden planner
And of course, whenever you are seed starting, organization is key! Check out my pretty and practical garden planner or my garden planner especially designed for flower farmers for all your garden planning needs. If you're in need of a seed starting schedule, grab a copy of my free seed starting schedule, while you're at it!
If you liked this blog post, find me on Facebook, TikTok, and Instagram for more cold-climate vegetable gardening tips, delicious recipes, and cut flower goodness! I also make weekly videos over on my YouTube channel. I hope to see you there!
P.S. If you love the content I create for Shifting Roots, consider joining our community on Patreon. Your support means the world to me and I am grateful for each and every one of you!
---
HAVE YOU TRIED SEED STARTING, ONLY TO BE LEFT WITH STRETCHED-OUT SEEDLINGS AND DEAD PLANTS?
You're not a bad gardener–you just need a little know-how. For the price of a few seed packets, you can stop wasting time and money and start growing seedlings that actually live, and you get to harvest. Don't miss out on another growing season. Get your copy of Seed Starting Success now (videos included)!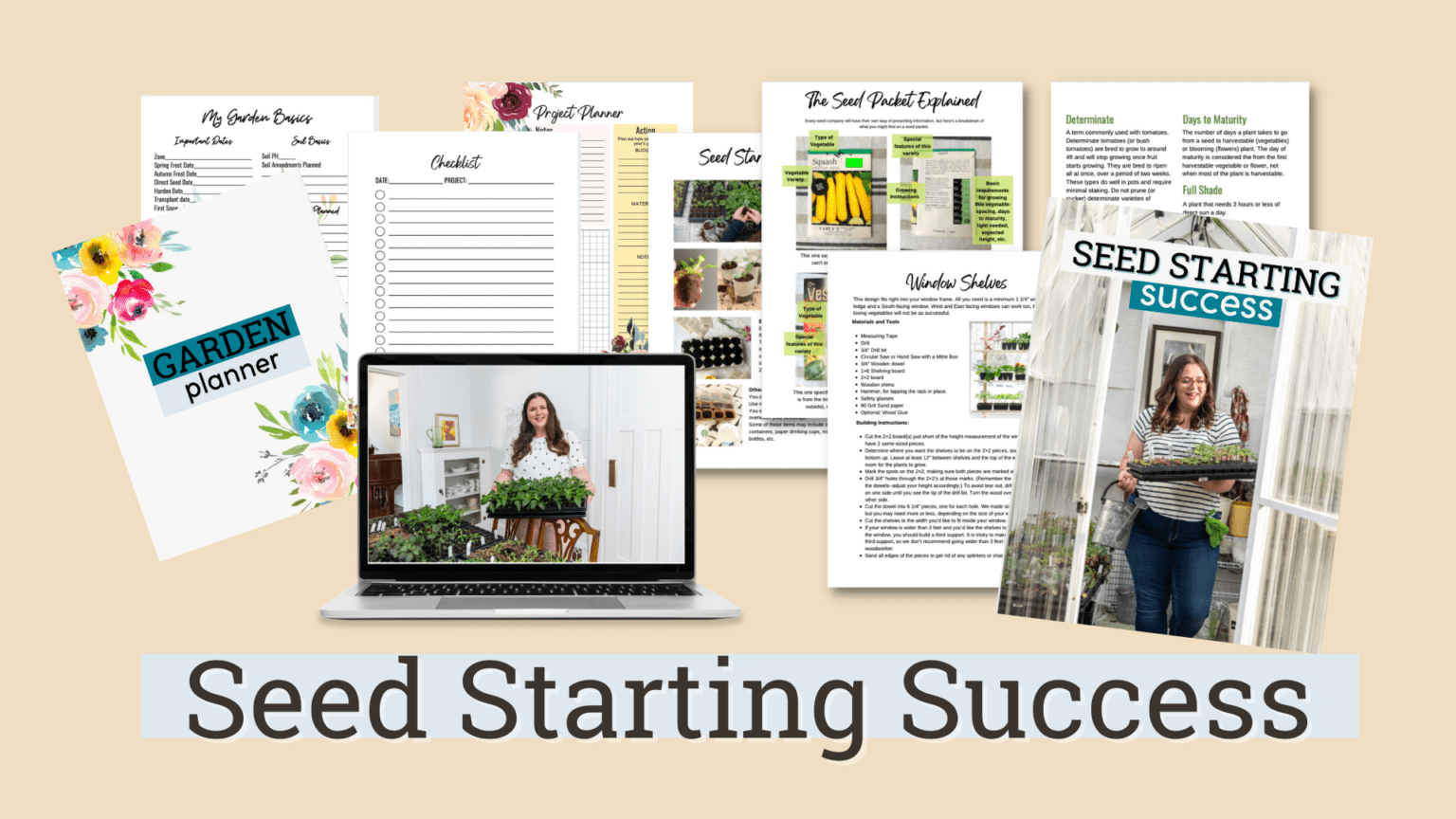 ---
---