For two weeks in June peony lovers everywhere rejoice and furiously arrange and photograph their precious flowers… or maybe that's just me. There's nothing like those delicate shades of pink and that glorious scent wafting from every bloom.
But peonies aren't always as easy to grow as they might seem.
In this post, I go over how to grow peonies (especially if you're in Canada like I am), how long before your peonies will grow, and some tips for transplanting peonies. And, did you know that peonies make excellent cut flowers? Once they have established, peonies will provide you with many cut flowers to use in the DIY flower arrangements I've listed at the end of the post!
So, if you live in hardiness Zones 2-8, pick up a peony root from your nearest garden centre or friend with too many on their hands, and learn everything you need to know to grow and play with herbaceous peonies from this post!
This post contains affiliate links, which means that I earn a small commission at no extra cost to you if you purchase something. You can read more about it in my privacy policy. Thanks for supporting Shifting Roots!
Can You Grow Peonies in the Spring?
Peonies grow in Zones 2-8 and are best planted in the fall. If you started yours in the spring, don't worry, your peony will still survive. You likely won't see any blooms, but this isn't a big deal because peonies generally don't bloom the first year that they are transplanted anyway.
How Much Sun Does a Peony Need?
Plant your peony in an area that gets 6-8 hours of sun daily. Peonies will bloom in part shade, but they don't thrive like those planted in full sun. If you live in Zone 7 or 8, your peonies would appreciate some shade but will still bloom even if they don't get it.
How to Plant Peony Roots
Plant your root so that the top is about 1/2 – 2 inches below the ground. If you plant them too far down, they may not bloom. And that, my friends, would be a crime.
Why won't they bloom, you ask?
Peonies actually need to freeze for at least a month to ensure blooms the following spring/summer. Next time you're in the middle of a -40 winter, take solace in the fact that at least your peonies will bloom again in the spring. If you live in Zone 3 like me, I think you have more leeway in how deep you plant your peony, as we get more of a freeze.
Finally, space your peonies approximately 3 feet or 1 meter apart and prop them up with a peony hoop. (It's like a large tomato cage).
How Long Does it Take to Grow Peonies?
Peonies generally take three years to really establish. Flowers grown from the root of an older established plant or in a bucket from your local garden centre might have one or two blooms the first year.
While peonies don't need regular watering, it is nice in the first year of planting. Personally, I give mine a slow-release fertilizer in the spring and water occasionally with this whenever I think of it. Maybe once a month? You could do this up to once a week, but I'm just not that organized yet.
Do You Need Ants for Peonies to Bloom?
Do you really need ants to open your peonies, or is it just an old wives' tale? Does anyone have a definitive answer? The internet is full of controversy.
My personal experience is that you do need the ants to open the bud at least until some of the petals are showing. Whether or not ants are needed, they are attracted to peonies. So I would suggest planting your peonies away from the house. If your plants are too close, you will have an infestation. Not that I know from personal experience or anything…
While we're talking about animals, peonies are also unattractive to deer and rabbits. Plant without fear of them being eaten if those are problem critters for you.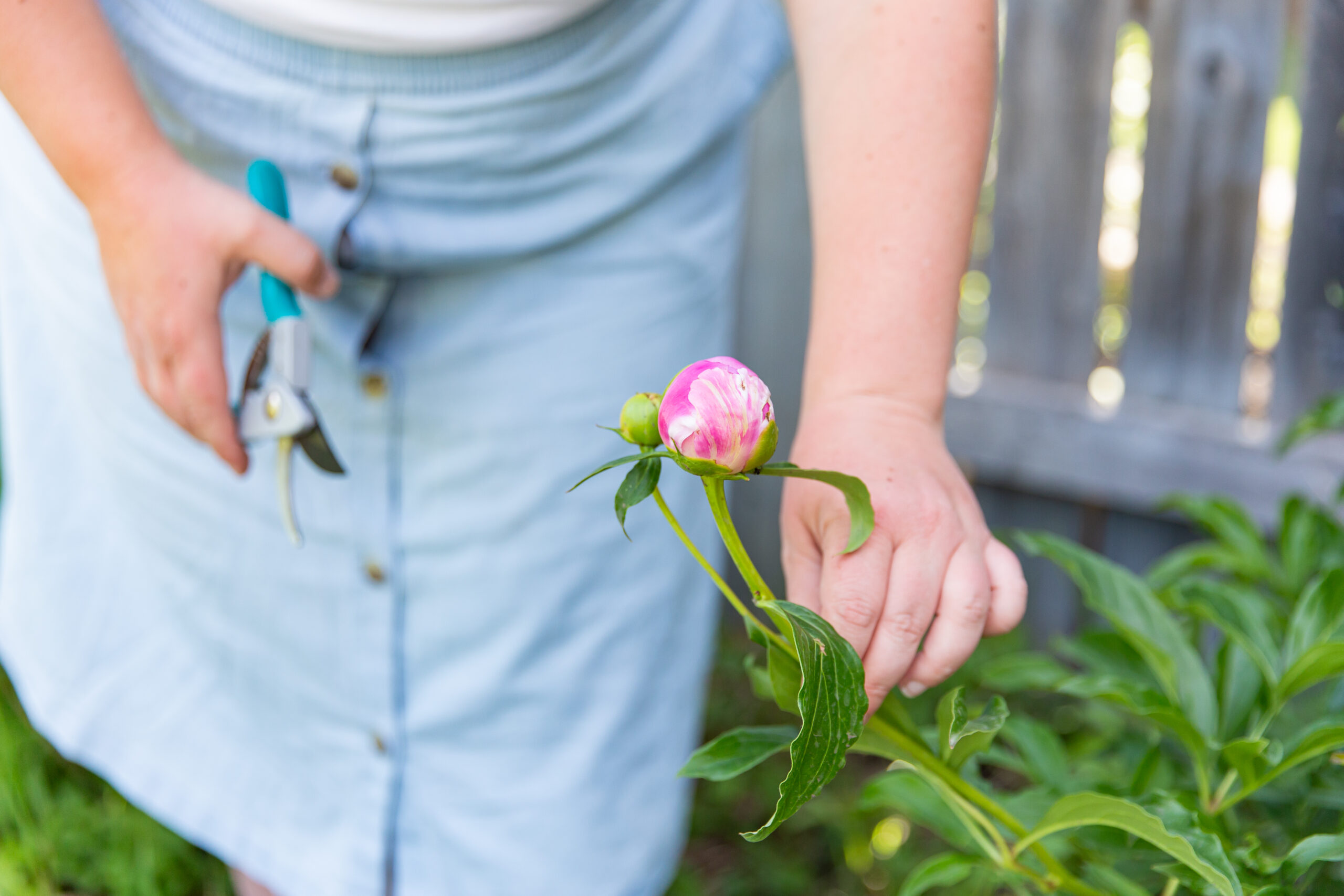 Cut Your Peonies so they last
The best time to cut is when the bud looks and feels like a marshmallow or is just opened. Cut the stem at an angle, longer than you think you'll need for your arrangement, and strip off most of the leaves.
Dunk the heads into a big bucket of water and swish them around. This removes any ants that are lurking in the petals. Shake off the water and bring them indoors. The buds will open fully within 24-48 hours and will last 7-10 days. Peony stems that are already fully open won't last as long and have more places for bugs to hide.
Did you know you can store peonies in your fridge for up to a month and set them out to bloom later?
Cut the peonies when they have just opened, and you can see a few petals, like in the picture below. Place them on a piece of plastic wrap that is two and a half times as long as the stems, encase the peonies, and store them in the fridge for up to a month. No water is necessary.
When you are ready to use your flowers, recut the stems at least an inch off the bottom and place them in a vase of water. The buds will open in a day or so.
Easy Peony DIY Projects
Now that you know how to grow peonies, it's time to bring them indoors and make something beautiful! Here are a few ideas to get you started.
If you prefer videos, check out the two below for more beautiful arrangements and how to make hand-tied bouquets with peonies: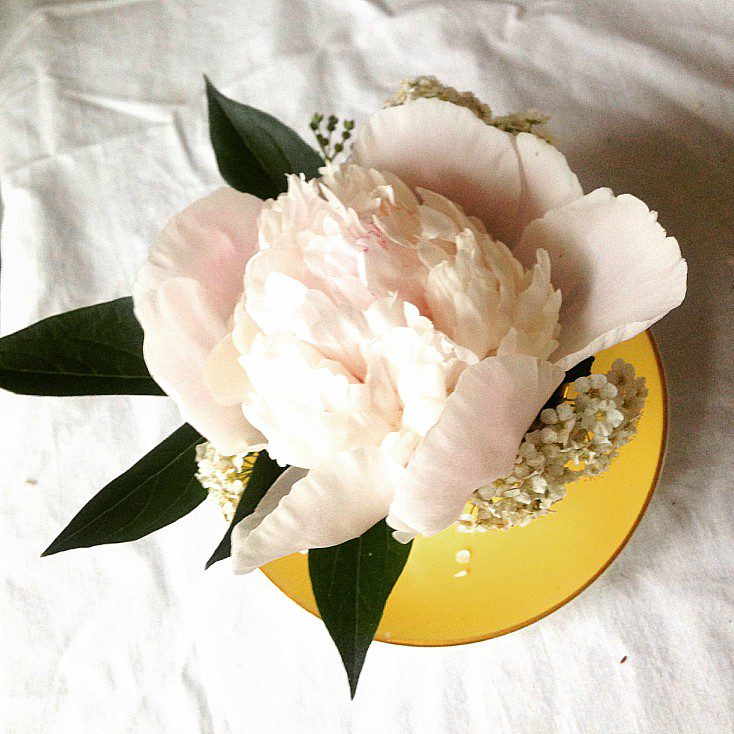 3. Deconstructed peonies
Make sure you remove the leaves from the bottom of the stems so your arrangement looks cleaner.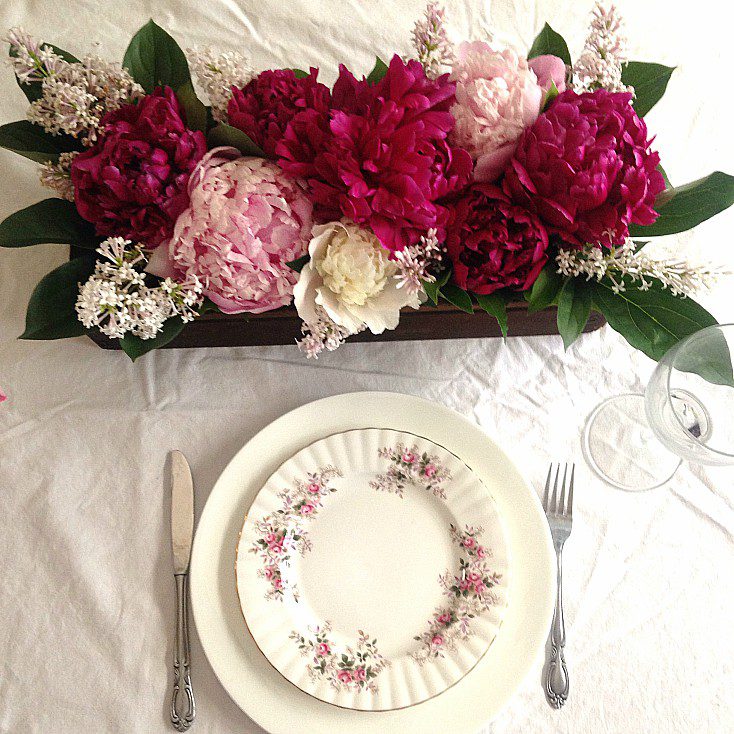 Make sure you use smaller buds for this project!
6. Repurposed Containers
Try putting your peonies in a unique container, like this teapot: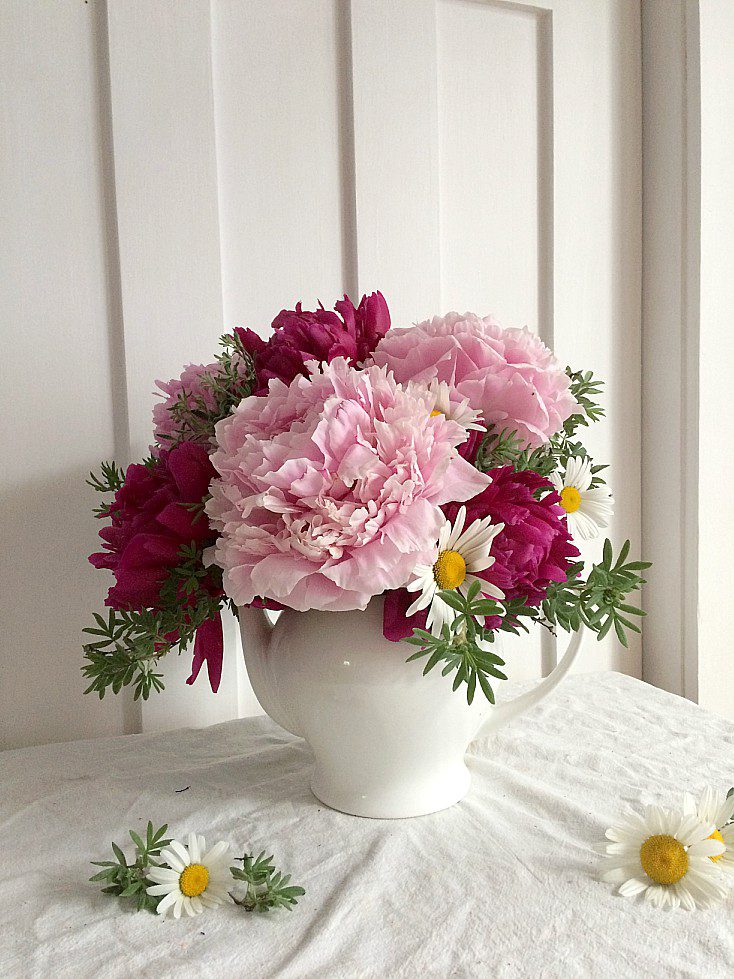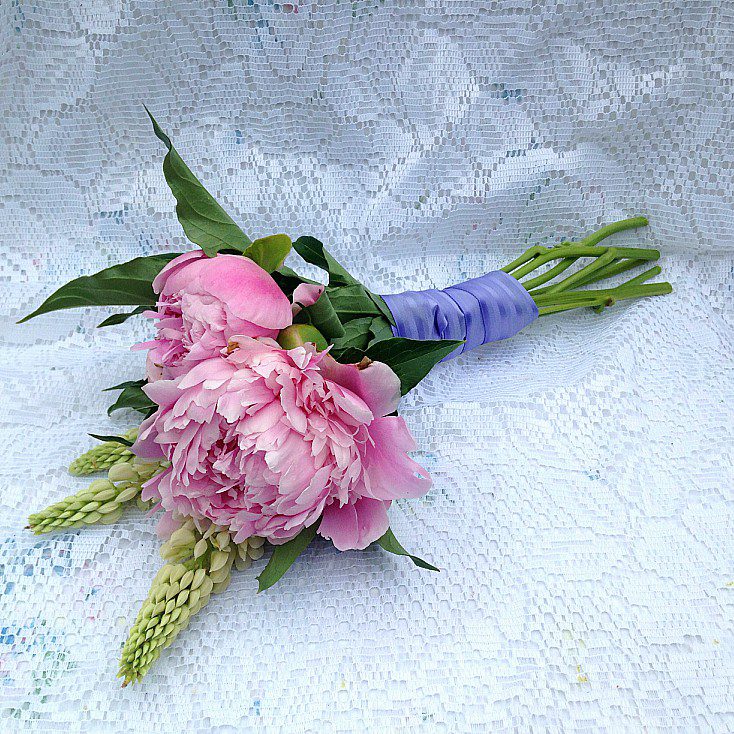 MORE FUN WITH PEONIES
I also found this recipe for peony jelly. Should I try to make it?
No peonies? No problem. Check out my friend Sarah's beautiful peony gift topper DIY at Pretty Simple Ideas.
Lastly, one really sweet lesson that peonies taught KariAnne at Thistlewood Farms.
Any tips for growing peonies? I'd love to hear from gardeners in other hardiness zones. Which one of the peony DIY projects is your favourite?
If you'd like more easy, actionable gardening tips, especially for cold climates and short growing seasons, follow me on Facebook, TikTok, and Instagram for tips, delicious recipes, and more cut flower goodness! I also make weekly videos over on my YouTube channel. I hope to see you there!
P.S. If you love the content I create for Shifting Roots, consider joining our community on Patreon. Your support means the world to me and I am grateful for each and every one of you!
---
WANT TO CREATE A PERENNIAL GARDEN THAT CONSTANTLY BLOOMS FROM SPRING TO FALL, WITHOUT CONSTANT WORK?  
Everything you need to easily create your own perennial garden with constant blooms. You'll get an easy-to-follow system along with 5 templates and 5 done-for-you plans, plus fun bonuses.
---
---